SSP-7/9 is a universal machine both for dry and wet-mix shotcreting. Accelerator pump equipped allows it to perform well as a wet shotcrete machine. Compared with regular shotcrete machine, it has advantages as follows: stable discharging, good spray effect, compact structure, easy operation, durable parts and low purchase cost. It is one of the most popular shotcrete machines with customers.
SSP-7/9 shotcrete machine is widely used in slope stabilization and excavation support, mining, tunneling, culverts, underground construction, hydro-engineering.
1. Accelerator dosing system is designed to convey accelerator independently while accelerator dosage can be accurately measured and adjusted freely by dosing pump.
2. Special rubber lining on hydrocyclones can vibrate under air pressure so that concrete will not stick to chamber. Smooth inner of chamber facilitates concrete conveying.
3. Stable performance, easy operation, low energy consumption, long service life, good spraying effect and environment friendly.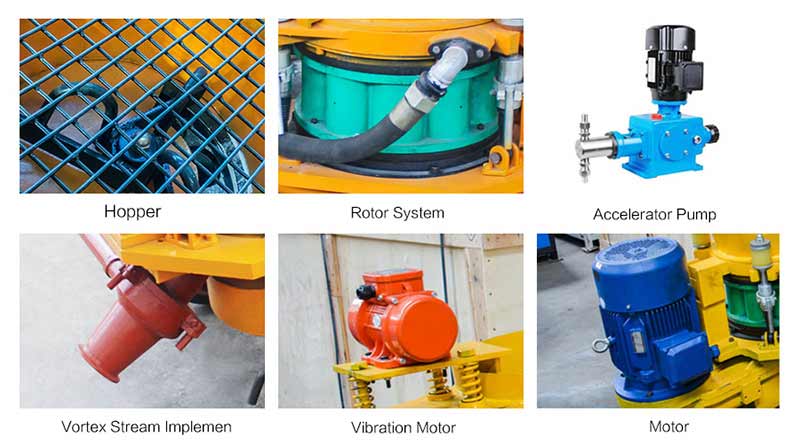 Models

SSP-7

SSP-9

Spraying Capacity

7m³/h

9m³/h

Max. Spraying Distance

Vertical15,Horizontal30

Vertical15,Horizontal30

Concrete Slump

8-15cm

8-15cm

Water Cement Ratio

0.55-0.65

0.55-0.65

Max. Grain Size

15mm

15mm

Diameter of Convey Hose

Φ57/Φ64mm

Φ57/Φ64mm

Working Wind Pressure

0.3-0.6MPa

0.3-0.6MPa

Air Consumption

8-12m³/min

8-12m³/min

Feeding Height

1.3m

1.3m

Motor Power+Vibrator Power(kW)

7.5+0.75+0.25

11+0.75+0.25

Dimensions(L × W × H)

1900×1050×1300mm

1900×1050×1300mm

Weight

900kg

1000kg

Disclaimer: TXSL company reserves the right to change this specification without further notice.


We are manufacturers & suppliers, We provide you factory price . We have all kinds of models of shotcrete machines for our customers to chose.
Different types and sizes of dry/wet mix shotcrete machine have different prices. If you need our latest quotation of dry/wet mix shotcrete machine,Please feel free to inquiry us.We will then send you the dry/wet mix shotcrete machine price. You can also send an email to info@hnwbzn.com to consult us.