This series are divided into PZ-5, PZ-7, PZ-9 and are mainly used for dry-mix concrete spraying in tunnelling, culvert, subway, slope stabilization, swimming pools, mining and underground engineering; The explosion-proof type is suitable for coal mining, chemical mine and other places with high combustible gas.

Why select PZ series dry shotcrete machine,Compared to wet shotcrete machine
Purchase cost: You can buy 7 dry shotcrete machines with the money for a wet shotcrete machine; Materials cost: the cost of accelerator for dry-shotcreting is much lower than liquid accelerator for wet-shotcreting; Maintenance Cost: easy cleaning and operation.

● Enlarge feeding inlet facilitates the continuity of concrete output. Air flow can be set at a certain rate, also can be adjusted timely to ensure the continuity of the concrete and accelerator.

● New straight-through rotor, macromolecule elastic chamber, combined and soft discharge elbow and rubber liner prevent concrete sticking and blocking in the machine.
● Wear parts are made of the materials with unique structures. Elastic and automatic clamping device improves tightness of the machine and reduce the wear of parts.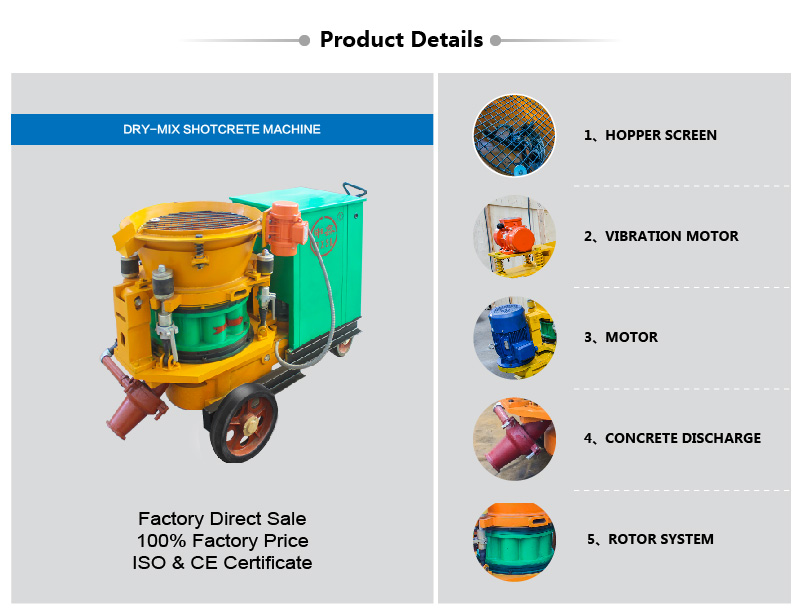 Models

PZ-5

PZ-7

PZ-9

Working capacity

5m³ / h

7m³ / h

9m³ / h

The max. transmission distance (m)

30 Vertical, 100 Horizontal

30 Vertical, 100 Horizontal

30 Vertical, 100 Horizontal

Recommended water-cement ratio

≤0.4

≤0.4

≤0.4

Accelerator dosage (%)

2-10

2-10

2-10

Max. grain size

20mm

20mm

20mm

Converying hose Inner diameter

Φ51mm

Φ57/Φ64mm

Φ57/Φ64mm

Working airpressure

0.4-0.6MPa

0.4-0.6MPa

0.4-0.6MPa

Air consumption

8-10m³ / min

10-12m³ / min

10-12m³ / min

Feeding height

1100mm

1300mm

1300mm

Motor Power +Vibrate Power

5.5+0.15kW

7.5+0.25kW

11+0.25kW

Machine weight

750kg

850kg

900kg

Dimensions (L × W × H)

1400×800×1100mm

1500×800×1300mm

1500×800×1300mm

Disclaimer: TXSL company reserves the right to change this specification without further notice.




We are manufacturer & suppliers. We provide you factory price shotcrete machines. We have all kinds of models of shotcrete machines for our customers to chose.
Prices vary according to different models, however we guarantee the price is affordable and is competitive in your market. Furthermore, we give big discount for large order. Feel free to send your inquiry, you will get the followings:
● Our product catalogue
● Our price list
● One-to-one service consultation
● Support materials for print or media uses